Article content
"I declare before you all that my whole life whether it be long or short shall be devoted to your service and the service of our great imperial family to which we all belong."
Article content
— Queen Elizabeth II, 21st birthday speech from Cape Town, South Africa, 1947
Article content
Elizabeth II, the greatest monarch Britain has ever known, is gone. The second and greatest Elizabethan era is dead.
It's not just her longevity that made Elizabeth II so important. She was true to that pledge on her 21st birthday until her death: Hers was a life of service, of dedication.
She steered her country and the precious Commonwealth she valued so highly through seven turbulent decades, from the resurrection of the world from the ashes of the Second World War through to the age of social media.
Louis St. Laurent was Canadian prime minister when she came to the Throne. Thirteen Canadian prime ministers, including Pierre Trudeau and now his son Justin, have come and gone since her accession in 1953, as well as 15 in the U.K. — from Winston Churchill to Liz Truss, whom she swore in just two days before she died.
Article content
BLIZZARD: The greatest Queen we have ever seen is gone

Queen Elizabeth II: A timeline of her life

Queen Elizabeth and Canada: A love affair

After the Queen: What comes next for the British monarchy

The Queen and Canadian currency: What's next
Along the way she served her country in the Auxiliary Territorial Service (ATS) as a driver and mechanic during the Second World War. She supported thousands of charities through royal patronages and could raise millions of dollars for a variety of causes simply by showing up at a gala.
While the Queen was always careful to keep herself apart from politics, it's well acknowledged that she supported Canadian Prime Minister Brian Mulroney in supporting sanctions against South Africa at a Commonwealth conference in Vancouver in 1987. The sanctions helped end the racist apartheid regime in South Africa and free its future President Nelson Mandela. He was forever grateful to Mulroney and to the Queen. His first visit overseas was to this country, where he spoke to Parliament. In 1998, on a state visit to the U.K., he stayed at Buckingham Palace as an honoured guest and rode through the streets of London, side by side with the Queen in a carriage. They called each other, "friends."
Article content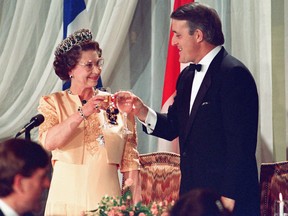 Elizabeth has always shown her dislike of racism and always celebrated the diverse cultures in her beloved Commonwealth. In 1961, at a time when segregation was still a major factor in the southern U.S., she caused ripples around the world by dancing with Ghanaian President Kwame Nkrumah. At the time, Ghana was in political turmoil and there were fears it might leave the Commonwealth and fall into the Soviet Russian sphere. Her visit there sealed the deal for the country to remain part of the Commonwealth fold and out of the claws of the Russian bear.
The Queen led with grace and courage and with the kind of wisdom she showed when she first pledged her service to her people.
We shall never see her like again. Born in 1926, she is of a generation that saw service to the country as the reason for her existence. Once she became Queen, she dedicated her entire life to her country and to her people, often putting what was best for the state ahead of what was best for herself and her family.
Article content
In 1952, She was on a tour of Kenya when she first heard that her father had died and that she was now Queen. While George VI had not been in the best of health, it was still a shock when he died and the young princess was catapulted into the limelight.
She had help, of course. Prince Philip, the dashing war hero, her "strength and stay," as she called him, was by her side throughout. They wed in 1947. While he occasionally balked at having always to take a back seat to his wife – and walk a couple of steps behind her – they made a remarkable couple. There's a certain poignancy that she should die so soon after his passing. It was almost as if she couldn't live without him, or didn't want to.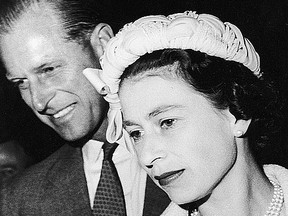 Her last year was a tragic one. She endured not only the death of Philip, but also the inelegant exit of Prince Harry and his wife, the Meghan, Duchess of Sussex, who rocked the Royal Family with their nasty interview with Oprah. It caused immense pain to both the Queen and Philip.
Article content
When Philip died last year, aged 99, they'd spent 74 years together. They had four children, eight grandchildren and 12 great-grandchildren.
The Windsors' family life was often troubled. When her sister, Princess Margaret, expressed a desire to marry a divorced man, Group Captain Peter Townsend, Elizabeth stepped in. The royal rules just would not permit it. Margaret's beau, a handsome RAF fighter pilot with a distinguished war record, was sent to Brussels in an attempt to cool the ardour between him and the younger princess.
Margaret later married Anthony Armstrong-Jones, the debonair and somewhat rakish photographer, who became Lord Snowdon. Public sentiment was largely with Margaret, who was denied the chance of happiness with a man she loved.
Article content
Many Royal marriages turned out to be nine miles of bad road. The most devastating mismatch, of course, was that of Prince Charles to Diana, Princess of Wales. In a 1992 speech that has now become the stuff of legend, Elizabeth famously named the year they separated, the same year a devastating fire ripped through her beloved Windsor Castle, as her "annus horribilis."
In a speech to mark her 40 years on the Throne, the Queen reflected on a disastrous year. Her voice still raspy from smoke from the Windsor fire, she said it was not a year she reflected on with "undiluted pleasure."
Three of her four children divorced or separated, including Charles and Diana. The Prince and Princess of Wales finally divorced in 1996, after Diana gave a devastating interview about her marriage to the BBC. At that point, the Queen stepped in and told them to get a divorce.
Article content
I have covered many Royal Tours of Canada and was in Westminster Abbey for the funeral of the Queen Mother, in 2002.
What always struck me was the Queen's common sense and her capacity to always say and do the right thing. In 1992 in Newfoundland, a group of Mi'kmaq demonstrators was peacefully collected around a drum at one of her events. While politicians, including Prime Minister Jean Chretien and cabinet minister Sheila Copps, scurried by ignoring them, the Queen went over and shook their hands and chatted with them. The demonstrators were charmed.
These tours can often be gruelling, tedious events, with countless whistle stops through small towns and villages. The Queen and Prince Philip just kept on shaking hands and smiling.
Article content
On another tour through southern Ontario in 1997, the royal party drove from Stratford to Brantford. I was waiting with the rest of the media in Brantford and we were all wondering why the usually split-second precision of the tour had gone awry.
It turned out that in every small town and village along the way, hundreds of people had turned out, many in period costume or sporting fancy hats and fascinators. The Queen was so touched, she asked her driver to slow down so she could wave.
In 1588, it was the Tudor Queen Elizabeth I who, in a speech to her troops, told her assembled navy: "I know I have the body of a weak and feeble woman; but I have the heart and stomach of a king, and of a king of England too."
I believe this second Elizabeth shared just those traits. She has been magnificent in her service to Canada, to the Commonwealth and to her people. She was, without doubt, the greatest monarch ever. We owe her a debt of gratitude for a life of service.
She's the only monarch Canadians under 70 have ever known and now she is no more. But the monarchy endures.
The Queen is dead.
Long live the king.
Denial of responsibility! planetcirculate is an automatic aggregator around the global media. All the content are available free on Internet. We have just arranged it in one platform for educational purpose only. In each content, the hyperlink to the primary source is specified. All trademarks belong to their rightful owners, all materials to their authors. If you are the owner of the content and do not want us to publish your materials on our website, please contact us by email – [email protected]. The content will be deleted within 24 hours.