Oscar winner plays a cantankerous widower in English-language remake of Swedish dark comedy
Article content
Even though he's known as the nicest guy in Hollywood, Tom Hanks loves it when he gets an opportunity to play against type.
Article content
So the two-time Oscar winner and star of Forrest Gump and Philadelphia jumped at the chance to press pause on his image as "America's Dad" to get grumpy in A Man Called Otto, now playing in select theatres.
Article content
In the dramedy directed by Marc Forster (Finding Neverland, Quantum of Solace) and written by David Magee (Life of Pi, Finding Neverland), Hanks plays a cantankerous widower who wants to end his life following the death of his wife and forced retirement.
But his character, Otto Anderson, begins to see life anew when he strikes up an unlikely friendship with a dysfunctional couple (Narcos: Mexico star Mariana Trevino and The Lincoln Lawyer's Manuel Garcia-Rulfo) and their two children.
Suddenly his coarse demeanour gives way to a warmth he long thought buried as he becomes devoted to those needy neighbours. He even finds a place in his home for a stray feline despite being the furthest thing from a cat daddy.
Article content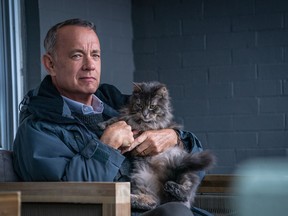 The film is an adaptation of Hannes Holm's 2016 Swedish film A Man Called Ove, which was inspired by Fredrik Backman's 2012 novel.
Hanks, 66, fell in love with the story and bought the rights to adapt the novel and film for American audiences along with his wife Rita Wilson.
"I recognized it right off the bat as it being a human condition that is just as recognizable in North America as it is in any culture," Hanks tells Postmedia about playing a get-off-my-lawn curmudgeon.
It's quite a change of pace for someone who is known for practising random acts of kindness and his general easygoing nature.
At the Toronto International Film Festival a few years back, Hanks stopped by an east-end coffee shop after the owner launched a social media campaign in hopes he'd visit.
Article content
Steven Spielberg once said about him: "If Norman Rockwell were alive today, he would paint a portrait of Tom."
"School
was. From that moment on, I guess I wanted to be an actor" source="Tom Hanks on what he wanted to become an actor" /]
But it's an interesting character tweak that follows Hanks' villainous turn as Col. Tom Parker in last year's Elvis.
"I love how it's this knock on the door that happens in the movie," Trevino says in a separate conversation. "We knock on the door because we want to connect and I love how that happens in the movie. There's a beautiful line from the book — 'Love sometimes surprises you' — you don't even realize it and you're loving someone. That happens here and I just love that."
Showing off his grumbly side was a fun exercise for Hanks, but it was also enjoyable for Garcia-Rulfo to watch as Otto's irritable personality softens.
Article content
"Honestly, I love them. I don't know why, but there's something about grumpy people," the 6 Underground star says with a laugh. "Every time I looked at Tom on set, he reminded me of my grandfather. He was so grumpy, but he was just funny."
But there was no great trick in getting him to say yes to Otto and his ornery antics.
"Playing him, I didn't have to fill in blanks that I hadn't already filled in in my head," says Hanks, who will be seen again later this year opposite Edward Norton and Margot Robbie in Wes Anderson's Asteroid City.
Speaking from New York City before the holidays, Hanks and his co-stars spoke about the life lessons they learned from Otto, with the Academy Award winner sharing that eureka moment that made him want to become an actor.
Article content
Tom, what intrigued you about remaking A Man Called Ove for a North American audience?
HANKS: "A Man Called Ove is a near-perfect motion picture, so you might ask yourself: Why do another version of it? And it's because there's an American sensibility to it that's just a little bit different. But the loss of regularity in Otto's life is a thing that got me. When my wife Rita, who is a producer on the movie, and I watched the movie, she verbalized something that was going on inside my head which was, 'This is just like us.' Transposing it to the United States had a slightly challenging aspect because we don't have the same social structure. But we do have the same desires as anybody else and that is: What's right, what's fair and what's the difference between solitude and loneliness. To be able to play a guy who is going through that … ends up being recognizable and real. You have to feel the difference Otto does when he greets these people at his front door. They're both the best thing to ever happen to him and the last thing he wants to deal with."
Article content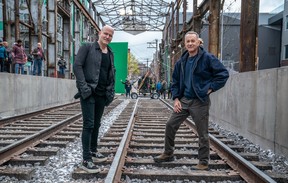 You've played so many memorable characters over the years. What's the ingredient that makes you say yes to playing someone?
HANKS: "There's got to be something that I recognize. Saying yes is actually relatively easy because I know what the guy is going through. I never have a problem in being able to motivate anything that a character does in (a movie), because if it wasn't there from the get-go, I would have had to say no to the movie to begin with. (It would be), 'I don't get it, I don't understand the logic, I don't buy it, I think there's an artifice to it.' But with A Man Called Otto, there wasn't a single moment where I didn't understand why he was doing something and why he shifts gears when he does. I knew what he's pissed off about and I knew why he gets angry."
Article content
RECOMMENDED VIDEO
Mariana, how did you forge a connection with Tom on screen?
TREVINO: "I've loved him my whole life and he's always been my favourite actor, so it was like a huge gift from the cosmos. He was so generous as an actor and a person. He has an enormous ability to connect and give off feeling. We did a lot of takes but he was there every single time and giving it his all."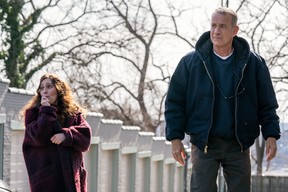 Manuel, do you have a trick for dealing with grumpy people?
GARCIA-RULFO: "There's always good in people, it's just a matter of how you perceive someone else … We met the writer of the book and he told us something that opened all our eyes. He told us that at the end, Otto doesn't change. He's still a grumpy old man. It's just our perspective that changes."
Article content
Tom, my mother took me to see Splash when I was nine, so I've been watching your movies my whole life. What was it that made you want to become an actor?
HANKS: "I had no real knowledge of what I wanted to do, but I felt that the creativity that went into acting was something that was not like working at all. I just got lucky enough that it came along. But I'm not so sure when I became cognizant of it as a career and a living one could make until I met other professional actors that ended up showing me the ropes. I don't know when it happened or how it happened other than back in high school when you realize they put on these (plays) and I said, 'Well, that looks a lot easier than running track. Let's just try that. This is school? You actually get to do this in school? But this is so easy and fun.' School wasn't supposed to be easy and fun, but that was. From that moment on, I guess I wanted to be an actor.
A Man Called Otto is in select theatres now. It opens across Canada this Friday
Denial of responsibility! planetcirculate is an automatic aggregator around the global media. All the content are available free on Internet. We have just arranged it in one platform for educational purpose only. In each content, the hyperlink to the primary source is specified. All trademarks belong to their rightful owners, all materials to their authors. If you are the owner of the content and do not want us to publish your materials on our website, please contact us by email – [email protected]. The content will be deleted within 24 hours.