UW football mailbag: Recruiting concerns, trap game contenders and conference realignment predictions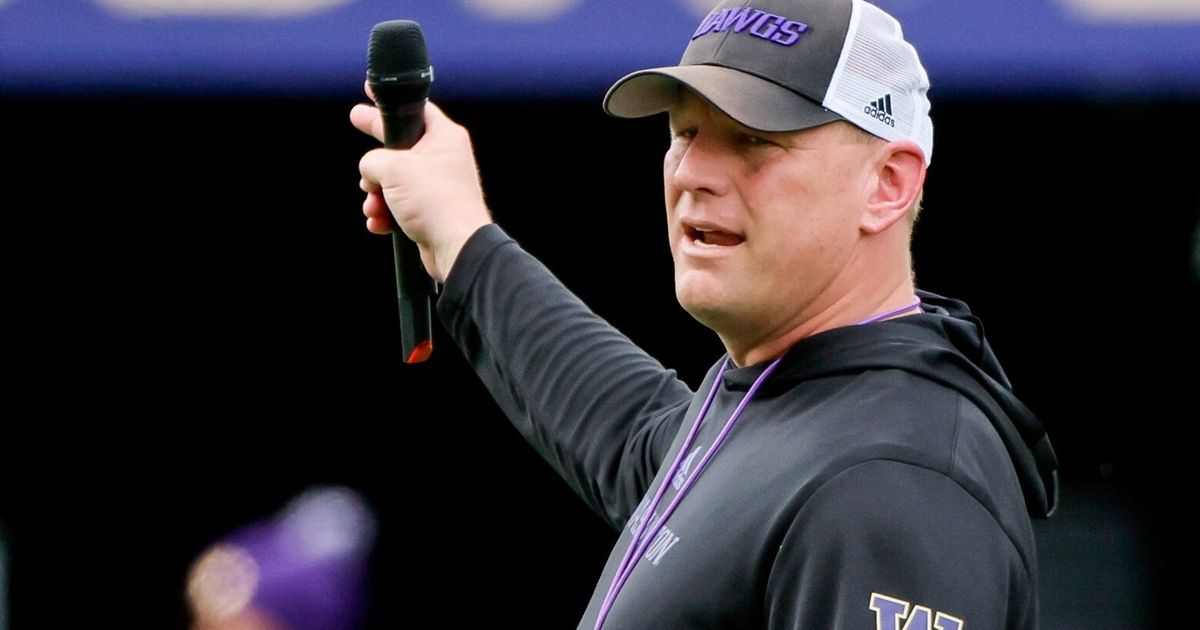 While we wait — and wait, and wait — for the Pac-12 Conference to complete its increasingly critical media deal, let's launch into another edition of the UW football mailbag.
That's a complicated question. Because, sure, there's cause for concern. As June approaches, UW has just three verbal commits — four-star offensive lineman Paki Finau, three-star quarterback EJ Caminong and three-star wide receiver Landon Bell — and its class ranks eighth in the Pac-12 and 62nd in the nation by 247Sports. Oregon, meanwhile, touts the country's No. 6 class — with 14 commits (including 11 four-stars).
That, on its head, is an unsatisfying start — particularly for a program riding the supposed momentum of an 11-2 season.
It may also be part of the plan.
After all, this time a year ago, UW's class contained just four verbal commits, and similar concerns swirled around its unproven coaching staff. That staff promptly earned an avalanche of pledges — 15 in total — between June 20 and July 27, as summer official visits repeatedly sealed the deal. Despite the slow start, UW's 2023 class ultimately ranked a respectable 23rd in the nation.
Likewise, 24 prospects are currently scheduled to take UW official visits next month (including a whopping 14 on June 23). And UW coach Kalen DeBoer said this spring that "I think you'll see a bunch of guys [commit in the summer]. I don't know if it'll be the same number that we had last year. That was a pretty high number. We got on a roll there.
"We're probably going to continue to be more and more critical of who we bring in. I think the numbers will be less with official visits. But I do expect overall for that time of year to be one where the majority of our guys commit. But I also think we'll continue to be in it more and more with a few guys here and there, till the very end, December or maybe even February."
Which reinforces the fact that UW expects the bulk of its commits to arrive this summer.
Still, the goal shouldn't be to simply keep pace with your previous cycle. Under Chris Petersen, UW's classes ranked 16th in 2018, 15th in 2019 and 16th in 2020. For DeBoer and Co., the immediate ambition should be a top-15 class.
Can UW clear that bar in 2024? Early anxiety aside, it's too early to tell.
But if UW's class still ranks 62nd in the nation two months from now, the answer will be evident.
First, the definition: a "trap game" is a game your team should win but could easily lose, especially if it overlooks its opponent. This depends on A) the quality of opponent, and B) the game's placement on your team's schedule.
For example: Boise State — a team that just went 10-4, won its bowl game, nearly beat BYU and has a history of Power Five upsets — is good enough to qualify as trap game material. But it isn't a trap game, because very few teams overlook their season openers … especially with 5-7 Tulsa on deck the following week.
Now, if those games were flipped, and UW hosted Boise State in its second game, a week before flying to East Lansing, Mich., for a premier nonconference matchup against Michigan State? Then, absolutely, Boise State would earn the "trap game" title.
With all that said, there are two undisputed trap games on the Huskies' schedule. The most prominent is a road test at Arizona on Sept. 30, a game that immediately precedes 1) a bye, and 2) the annual showdown against Oregon on Oct. 14.
Arizona went just 5-7 last fall, but the Wildcat offense is explosive, and quarterback Jayden de Laura has harassed the Huskies both at Arizona and Washington State. In his last two games against UW, de Laura completed a whopping 78.8% of his passes and threw for a combined 645 yards with four touchdowns and zero interceptions, while his team scored 79 points.
Oh, and we know weird things happen to Washington in the state of Arizona. The Huskies have actually won three straight in Tucson, but they barely escaped with a 35-28 overtime win in an otherwise sparkling 2016 College Football Playoff season. UW has also lost eight straight at Arizona State, including massive upsets in 2022 and 2017.
The other legitimate trap game contender is UW's visit to Stanford on Oct. 28 — an assumed blowout directly preceding spotlight matchups against USC, Utah, Oregon State and Washington State. Given Stanford's 3-9 face-plant last fall, and the quartet of contenders littering UW's November schedule, it'd be easy to overlook the formerly formidable Cardinal. Plus, UW lost six straight on "The Farm" before escaping with an unconvincing 20-13 win in 2021.
But in Troy Taylor's debut season, will Stanford be good enough for any of that to actually matter? Only time will tell.
There is no good answer here.
But there is an answer.
Unless a better option emerges, UW will be in the Pac-12 Conference in 2024.
Yes, the same Pac-12 Conference that — according to John Canzano — will distribute $5.7 million less than expected to its schools, thanks to Comcast withholding money after $50 million of previous overpayments. The same conference that will absorb an additional $10 million just to exit its gaudy San Francisco headquarters. The same conference that effectively lost USC and UCLA last summer and appears incapable of delivering a competitive media deal.
Why is Washington stuck on a sinking ship?
Because, where else would it go?
The Big Ten — which will welcome USC and UCLA in 2024 — has its own internal problems, as ESPN reported this week that its celebrated $7 billion media deal (a figure that appears increasingly inaccurate) was never actually finished. New commissioner Tony Petitti, who took over for Kevin Warren this month, is currently attempting to salvage the deal while also satisfying FOX, NBC and its member schools.
Does that sound like a conference primed for further expansion?
Washington, meanwhile, has little interest in joining the Big 12 Conference, and ACC powerhouses are actively exploring how to escape their grant of rights agreements to accelerate their own exits.
The most likely scenario, then, is that the Pac-12 produces some semblance of a media deal this summer and UW and Oregon — with a clear path to the expanded College Football Playoff — make do for four or five more years.
As for the state of college football in 2030: It certainly seems like, sooner or later, the Big Ten and SEC will either eat or eviscerate everything else. And UW's market, brand and pedigree will likely grant it a seat at the winner's table.
But honestly? I'm just hoping the entirety of North America doesn't sink into the ocean by then. Your guess is as good as mine.
Denial of responsibility! planetcirculate is an automatic aggregator around the global media. All the content are available free on Internet. We have just arranged it in one platform for educational purpose only. In each content, the hyperlink to the primary source is specified. All trademarks belong to their rightful owners, all materials to their authors. If you are the owner of the content and do not want us to publish your materials on our website, please contact us by email – [email protected]. The content will be deleted within 24 hours.